Feb 22, 2023 • 2
minute read
TaxCloud BigCommerce Integration Setup
No more manual uploads! TaxCloud's integration with BigCommerce sales tax calculation for your ecommerce store at the time of checkout and real-time transaction capture.
With TaxCloud's BigCommerce integration, you can say goodbye to manual order uploads. Our integration provides sales tax calculation for your eCommerce store at the time of checkout and offers real-time transaction capture.
Did you know TaxCloud can also file and remit your tax returns? Learn more here. 
How to Connect Your Store With the TaxCloud BigCommerce Integration
Ready to combine the power of BigCommerce and TaxCloud? We'll guide you through connecting TaxCloud to your BigCommerce store and get you up and running in no time.
Instructions for BigCommerce App Installation:
1) In your dashboard, select Store Setup->Tax, and then 'Add tax service'.

2) Select to install the TaxCloud service, which starts the installation process.

3) Confirm your intent to install the app by selecting the Install button.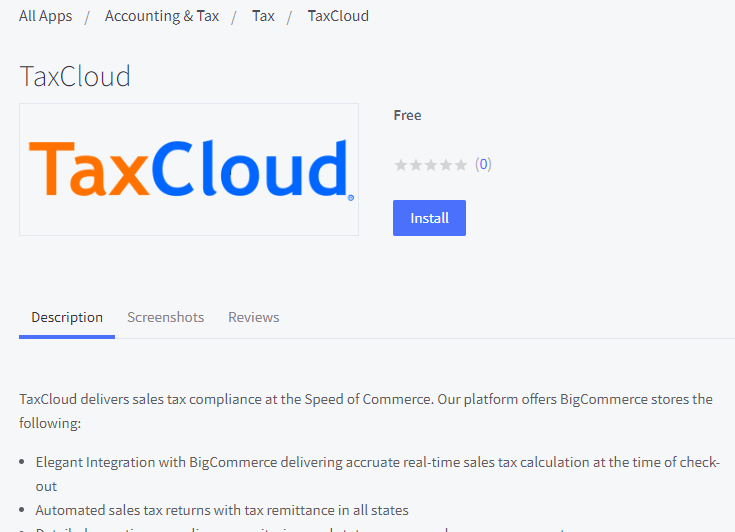 4) On the next screen, you must allow TaxCloud access to your account data to complete the app installation.
Instructions for BigCommerce App Configuration
For TaxCloud to begin providing sales tax calculations, you will need to complete the following app configurations:
1. Enable TaxCloud to be your sales tax service provider.

2. After selecting the Enable button, you should see a visual representation that your account is enabled.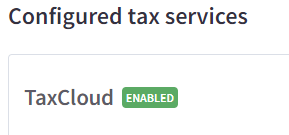 3. Now select the edit button.

4. You will see the below screen for Tax Options. Please note the following:
There is the option to submit committed transactions or finalized transactions to TaxCloud for filing. If your transactions move into another integration with TaxCloud, do not select this option as it will result in duplicate transactions.
Additional fields are provided to add a Taxability Information Code (TIC) for TaxCloud to identify and properly tax items. Add the default TICs for Handling (11000), Shipping (11010), and fully taxable items (0 or blank). Check out all of TaxCloud's TICs here.
5. Make sure that prices in your store are entered exclusive of tax. The setting is controlled under Tax Settings. 
6.  Your store is now set up to calculate sales tax using TaxCloud!
Please note your store will initially collect tax in test mode, meaning we will not remit any sales tax on your behalf, and the system will only provide sales tax amounts for a limited time.  To configure which states to calculate tax, to go live, or to get your questions answered using chat, you will need to launch the TaxCloud app under My Apps.